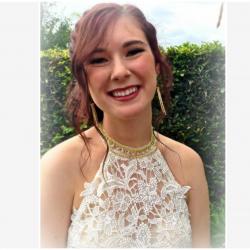 Name: Alli Downey
City you live in: Orange
Age: 19
Major: Communications
Favorite Color: Coral
Favorite fruit: White Peaches
Favorite Book: Something Borrowed
Something interesting about you that people may not know: I have been in Musical Theater since I was 3
If you could have dinner with one person, alive or dead, who would it be and why? Robin Williams, because that man has never failed to make me laugh, and I am preety sure he would have some crazy stories.
It is a lazy Sunday, how would you spend your day? Watching Netflix with my family and making cakes.
What is the funniest comment you have heard from a child while babysitting? A young boy had just gotten a buzz cut so I put my hand on his head to feel his hair and he looked back and me and told me "STOP! You're squishing my ideas!"
When you were a kid growing up, what did you want to be? I wanted to be a Doctor by day, and a singer by night.
Where would you most like to travel to some day? I would love to go explore all of Europe. That is where most of my family is from, and I still have family members living there that I have yet to meet.
What is the best memory you have from your childhood babysitter? Ice Cream. Plain and simple, I used to be able to talk all of my babysitters into giving me more ice cream.
What is your favorite holiday? Christmas, I love having my extended family come over and getting to talk to them about their year, because its the only time that we all can get together over the year.