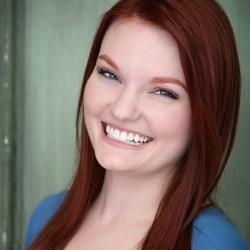 Name:  Abbie Fioccoprile
City you live in:  North Hollywood (Los Angeles)
Age:  22 (Birthday 6/21/94)
Major:  B.A. in Theatre Arts - Acting Emphasis (Graduated in May 2015 from California State University, Fullerton)
Favorite Color:  Purple!
Favorite fruit:  Watermelon! (I could seriously eat this everyday!)
Favorite Book (kids book and adult book):  As a kid, I loved Shel Silverstein books like "A Light In The Attic" and "Where The Sidewalk Ends". As an adult I love "The Poisonwood Bible" by Barbara Kingsolver or "The Book Thief" by Markus Zusak.
Something interesting about you that people may not know:  I was born in Salem, Massachusetts (but no I'm not a witch =P)
If you could have dinner with one person, alive or dead, who would it be and why?  I personally would love to have dinner with actress Stana Katic! She'a mainly known for her role as Detective Beckett on the past tv crime series "Castle", but I am inspired by her overall acting career choices and would love to pick her brain on her journey so far!
It is a lazy Sunday, how would you spend your day?  Sleeping in with my dog Zoey and just lounging around in my pjs! Maybe make myself a yummy brunch, binge some Netflix. If I'm feeling a little active, go on a local hike with my dog and my roommates!
When you were a kid growing up, what did you want to be?  I wanted to be a vet!
Where would you most like to travel to some day?  Iceland!! I've recently become obsessed and am seriously trying to plan a trip to go September/October of either this year or next!

What is the best memory you have from your childhood babysitter?  My mom was actually a stay-at-home mom so she watched me most of the time. And when she didn't, I am the youngest of 4, so it was usually my oldest sister watching me. I guess I really enjoyed when my oldest sister would French braid my hair though! (:
What is your favorite holiday?  I'd say either Christmas or Mother's/Father's Day. I love coming together for Christmas with my family and making our traditional dishes (Pierogis-Polish for Christmas Eve and then my father's family recipe of meatballs-Italian for Christmas Day!) But now that I'm older I really cherish Mother's and Father's Day for I can really appreciate how much they have sacrificed and given to myself and my siblings.