Paper Plate crafts are definitely one of my favorite types of craft. They're so simple and can be adapted for different age groups. These paper plate caterpillars are super cute, and will be perfect for spring time.  You could of course decorate them like everyone's favorite caterpillar – The Very Hungry Caterpillar or make your own creation.
Materials
Paper Plate (unwaxed) – one plate makes two caterpillars
Markers or paints
Pipe Cleaners
Glue
Optional extras – add any extra supplies you have to hand – glitter, pom poms, sequins, buttons,  googly eyes – let the kids get really creative with their caterpillars!
Instructions
Cut the paper plate in half. Then, cut out the middle circle away from the bordered edge, like in the photo below: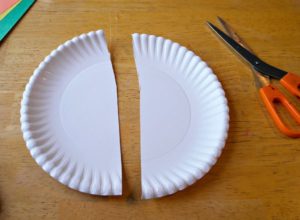 Use the circle piece for the head of the caterpillar. It will need to be trimmed down to a smaller size to fit.
Have the children color the border piece (which will become the caterpillar body). Get creative, color them in a variety of designs!
Use markers to draw faces, or if you have googly eyes on hand you can use those.
Cut a pipe cleaner to length, curl it with your finger to make them look like bent antennae.
Attach to the back of the head with glue. Allow to dry.