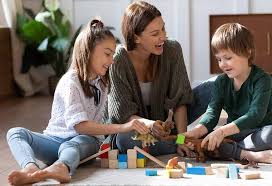 Choosing and hiring the right nanny for your kids may be one of the most important tasks you'll be given as a parent. A nanny is someone that will be caring for your children and spending many hours a day with them. So, your chosen nanny should be honest, responsible, and caring, experienced and nurturing. You want to find the best possible nanny for your children. How do you know if your nanny is a great one? What are some telltale signs that you've hit the nanny jackpot? Read on to find out...
The nanny provides you with feedback at the end of the day.
Receiving a daily report whether formal (written down) or informal (verbally communicated) is an important practice between nanny and parent. Many parents want to know some details about what their children did all day such as meals/snacks, activities they engaged in, places they went, any issues that may have arose. Your nanny should be providing you with these daily details and communicating with you about your children so you can continue to work as a team.
Your children are excited to see the nanny.
Do your kids talk about the nanny when she's not there? Do they ask for her or talk about what they did together while you were at work? If you have a baby are they excited and smiling when they see their nanny? If the answer is yes, these are signs that your child is adjusting well to your nanny and enjoys spending time with him/her.
Everybody wants your nanny.
If your friends comment on how great your nanny is, that they'd love for her to care for their children, about the amazing thing they saw her doing with your children, then you likely have a great one. A compliment from a friend or family member about your nanny to you says a lot about how she is being perceived by others and the type of relationship she likely has with your children.
They come prepared for the day.
A great nanny comes prepared to play and engage with your children. They are engaging your children in interesting educational activities, creative/imaginative play and fun physical activities as well. When you ask your children what they did each day they should be regaling you with stories of art projects, nature walks, science experiments, and more. Your children should be growing, learning and developing new skills from their daily interactions with their nanny.
They continue to grow and learn in their field.
There are many classes and certification courses that your nanny can take to continue to grow within her nanny career. Continued training shows that your nanny is interested in learning new methods and activities to increase their nanny skill set. Some examples of classes would be cooking classes, Newborn Care Specialist training, Sleep Training, Early Childhood Development, Child Nutrition, RIE training, and so many more.
Are you ready to start your nanny search? Mollycoddlers is here to help! We place summer nannies, temporary nannies, NCS, part time nannies and full time nannies. We'd love to chat with you and learn about your needs.