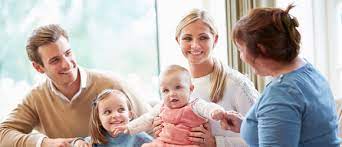 Hiring a nanny for your family is one of the most important decisions you will make. By conducting interviews you'll be able to get a good sense of the nanny candidate and if they will be the right fit for your family. Once you've started working with Mollycoddlers to find your nanny you'll be sent profiles of candidates to interview which can be set up in different ways depending on your circumstances.
What type of interview will you conduct?
While some families like to start with a phone interview, or a virtual interview, we feel the best way to interview the nanny is in person. It's much easier to get a sense of the person, their personality and engagement when you are face to face. Where you conduct the interview is up to you. Some families like to meet at an off-site place such as a coffee shop or other similar location. This is best if you want to meet the candidates first before introducing them to your children. If you feel comfortable having them in your home instead, this gives the nanny a chance to see what their potential work environment is going to be like and a chance to meet your children.
What should I ask the candidate?
You want to get an overall sense of the candidate including their experience, philosophies of childcare, and their personality. Some potential questions to ask to cover these are:
Experience questions: What do you see as a typical day with my 2 year old? What steps would you take to sooth my baby that is crying a lot? How do you typically handle temper tantrums?
Childcare philosophies: How do you prefer to discipline children and what do you see as your role in discipline as a nanny? How do you think children learn best? What do you like most about caring for children?
Personality questions: How do others describe you or your personality? What about your personality makes you well suited for this nanny position? Can you share a funny story from your last nanny kids?
Trial days
If all goes well during the interview and you feel like the nanny is a great option for your family, we strongly recommend having at least one trial day with that candidate. Remember that a trial day is a paid work day for the nanny so be prepared to pay them what you will be paying them should you offer them the position. During the trial, the nanny candidate will get a sense of how things are run in your home, what a typical day looks like, and if there are drop offs/pick ups they can be involved in that process too. This is also an opportunity for you to see the nanny "in action" prior to making them an employment offer. Seeing the nanny in action with your child/ren will give you insight into their ability to care for their children that may not present itself on their resume or interview. This is an opportunity for both family and nanny to confirm that the position is the right fit for both sides. Better to find this out after a short trial than to hire and realize it wasn't the right fit.
Are you looking for a nanny? Mollycoddlers would love to help! We place full time, part time, temporary, after school, and summer nannies as well as Newborn Care Specialists. You can find our Family Application at www.mollycoddlers.net